Hey Guys! Today it is a Winter Wonder Land in CT. I love the cold and snow AND days off from work. I woke up today with a craving for pancakes. They are just warm pools of goodness, am I right or am I right?! However, going down this new life journey of wanting to eat better, whole foods; I was stuck.
Do I give into sweet Krusteaz pancake mix temptation with a butt load of Aunt Jemima syrup and pools of butter oozing down the tower of pancakes, or do I find a healthier alternative? Of course that latter doesn't seem so appealing after that great description.
However, I have been doing SO well and feeling amazing, so I picked the latter and found a healthy and surprisingly yummy alternative. This recipe is flour free, gluten free, Paleo friendly, and non- gmo. Below, please find an actual picture of the goodness I whipped up this morning! PS- not only was it yummy, but it took .5 seconds to make! (Don't take me literally here).
---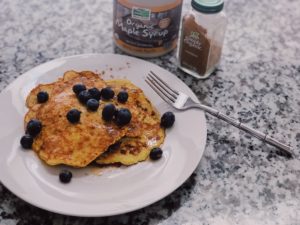 ---
*2-Ingredient Pancakes*
Equipment
Small mixing bowls
Dinner fork
Cast iron or nonstick griddle or skillet
Very thin, wide spatula, like a pancake spatula or fish spatula
Instructions
Mash the banana: Peel the banana and break it up into several big chunks in a bowl. Use a dinner fork to thoroughly mash the banana. Continue mashing until the banana has a pudding-like consistency and no large lumps remain; a few small lumps are okay. You should have 1/3 to 1/2 cup of mashed bananas.
Stir in the eggs: Whisk the eggs together until the yolks and whites are completely combined. Pour the eggs over the banana and stir until the eggs are completely combined. The batter will be very loose and liquidy, more like whisked eggs than regular pancake batter.
Heat a griddle over medium heat: Melt a little butter or warm a little vegetable oil in the pan to prevent sticking, if you like.
Drop the batter on hot griddle: Drop roughly 2 tablespoons of batter onto the hot griddle. It should sizzle immediately — if not, turn up the heat slightly.
Cook for about 1 minute: Cook the pancakes until the bottoms look browned and golden when you lift a corner. The edges should also be starting to look set, but the middle will still be loose like barely set Jell-O.
Flip the pancakes: I've found it best to do this very gently and fairly slowly — the opposite of regular pancakes. Gently work a spatula about halfway under the pancake, then lift until the unsupported half of the pancake is just barely lifted off the skillet. Lay the pancake back down on its other side. Some of the loose batter will probably spill onto the skillet as you do this; just be sure to lay the pancake on top of the spill and nudge any excess back under the pancake.
Cook for another minute or so: Cook the pancake for another minute or so, until the other side is also golden-brown. You can flip the pancakes a few times if you need to in order to get them evenly browned. (Flipping is much easier once the second side is set!)
Continue cooking the pancakes: Transfer the cooked pancakes to a serving plate and continue cooking the rest of the batter. Keep the finished pancakes warm in the oven if cooking more than a single batch.
Serve warm: These pancakes are best when eaten fresh off the griddle and still warm. Serve with maple syrup, honey, jam, or any extra toppings you'd like.
Courtesy of: The Kitchn
---
There you have it! I hope you guys enjoy this yummy pancake alternative! I feel 100% guilt free after eating them and again, they really did taste great! If you like this, please spread the love!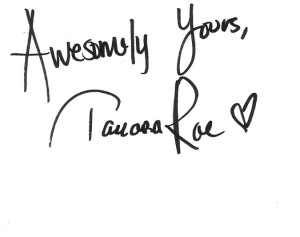 ---
0